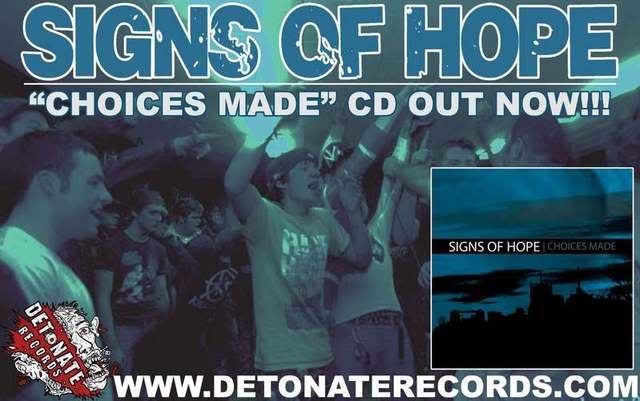 Hailing from Southern Connecticut,
Signs of Hope
is a fast and energetic old school hardcore band with a touch of melody. The band was formed in September of 2003 with the intention of playing straight to the point songs loaded with sing-a-longs, mosh parts, and an overlaying positive message. The band's demo quickly earned them a reputation as one of Connecticut's premier acts. The ability to establish themselves as a home state headliner off a six minute demo reflects
Signs of Hope
's capability to resonate with fans and win the hearts of the hardcore scene. Since the release of
Signs of Hope
's debut CD titled
"
First and Foremost
" in 2007 they have completed 2 National Tours and have plans for Europe in 2008.
Tracks
1) Where I Stand
2) Northbound
3) Break Out
4) Promises
5) Breaking Barriers
Download Here -
http://www.megaupload.com/?d=NDD8LVF0
Band Myspace -
http://www.myspace.com/signsofhope
Label -
www.detonaterecords.com