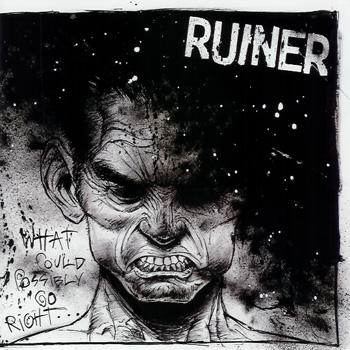 Baltimore, Maryland has never been known for its beauty or charm. With a strong D.I.Y work ethic, an honest and sincere outlook, and not to mention a machine-like touring regiment, Ruiner has been breaking barriers since their first show in October 2004.
Before releasing their first LP Prepare to Be Let Down in June of 2007 on Bridge Nine, Ruiner already toured the full United States four times, parts of Canada twice and three times to Mexico. They played a little over 200 shows in their first year and a half of existence, all of which were booked with out the help of any booking agent. Topping off the bands second year, 2006 saw them head to Europe for 31 shows in 10 different countries.
It's fast, melodic, angry, and as heartfelt as the bands of yesteryear. Yet never expect this band to begin a set by preaching about their role in hardcore. The fire that feeds them is their own. It is pure raw human emotion. You can not fabricate this type of intensity, nor can you stop it. The road traveled by these five has been and always will be by their own design.
RUINER is Joey Edwards - Drums, Danny Porter - Guitar, Stephen Smeal - Bass, Rob Sullivan - Vocals, Dustin Thornton - Guitar
What Could Possibly Go Right... CDEP


1. Once Loved
2. Paint Peals
3. Adhering To Superstition
4. Lockjaw
5. Getting Over The Overs
6. Out Go The Candles
7. A Bridge Too Many
8. Six By Six
Prepare To Be Let Down CD/LP



1. Prepare To Be Let Down
2. Bottom Line: Fuck You
3. The Lives We Fear
4. That Stone Better Be On Fire
5. 40 Miles North
6. A Song For The Beggars
7. Long Time Coming
8. Repetition
9. Choke On It
10. When The Morning Ends
11. Sleepless
12. Kiss That Motherfucker Good Night
Download both in one file here -
http://www.megaupload.com/?d=3AOB2Q2C
Band Myspace -
myspace.com/ruiner
Band Website -
http://www.youruiner.com
Label -
www.bridge9.com
Ruiner have killer merch so get over to their site or the bridge 9 webstore and pick some up.